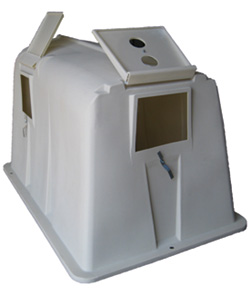 RSI Calf Hutches are:
• Higher in the front than the rear for natural air movement through vent in the back.
• Easy to clean and lightweight to move, but still strong and durable.
• Available with 5 quart or 10 quart bucket holders and buckets.
• Available with side or rear access doors.
• Available with bottle holders.
• 4 feet wide, 7 feet long, and 4 feet high.
• Almond color.
• Warmer in the winter and cooler in the summer.
• Made from food grade, UV inhibited polyethylene.